Technical Releases1
World's first rear beam made from tailored blanks developed by Yorozu!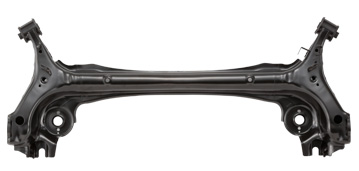 【Advantage1】

CO2 reduction!
We were able to reduce the weight by 15% from the conventional structure, contributing to a reduction in CO2.
【Advantage2】

Superior driving performance!
Crosswise stiffness was increased by 30% compared to the conventional structure, increasing driving performance.
In 2011, Yorozu developed a tailored blank rear beam that is completely different from the conventional structure.
This rear beam, which was incorporated into Honda's N-Box, was the first in the world to use the tailored blank method to join the trailing arms to the crossbeam, decreasing mass while increasing stiffness.
The tailored blank rear beam was created thanks to Yorozu's development and production technology capabilities. Read on to find out what makes this product so attractive.
What is a tailored blank?
A tailored blank is a single blank sheet made by welding together several steel sheets of different thicknesses and strengths before pressing.
What is a rear beam?
A rear beam is the main form of suspension for the rear wheels in small and mid-size passenger cars. The crossbeam in the center twists, enabling the left and right trailing arms to move separately. This creates characteristics similar to those of an independent suspension.
Every year sees demand for lighter and lighter rear beams due to the need to reduce automobile CO2 emissions.