Technical Releases1
World's first rear beam made from tailored blanks developed by Yorozu!
Development award from Honda Motor Co.
What makes a tailored blank ream
beam so special?
Below are the features of this tailored blank ream beam, which boasts reduced mass and increased stiffness thanks to Yorozu's development and production technology capabilities.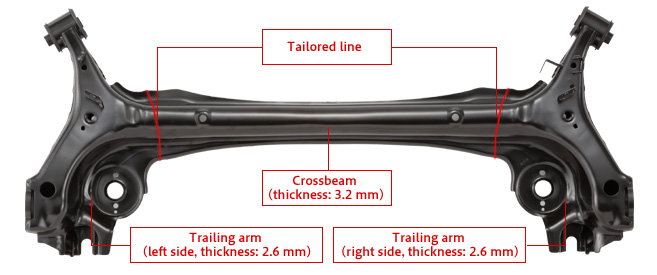 In 2011, Yorozu developed a tailored blank rear beam that is completely different from the conventional structure.
This rear beam, which was incorporated into Honda's N-Box, was the first in the world to use the tailored blank method to join the trailing arms to the crossbeam, decreasing mass while increasing stiffness.
The tailored blank rear beam was created thanks to Yorozu's development and production technology capabilities. Read on to find out what makes this product so attractive.
Feature 1: Structure
Light weight and high stiffness through unitary
construction!
In the tailored blank ream beam, welding overlap between components and the mass of the weld bead itself were reduced. At the same time, the continuity of the form was increased and local deformation and concentration of stress in the joints were limited by joining tailored blanks. In addition, by joining spring seats and using them as stiffeners, force from the tires is transmitted efficiently to the crossbeam, achieving greater crosswise stiffness.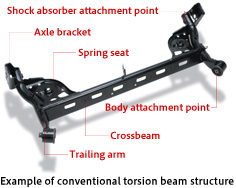 Issues with the conventional structure
In the conventional structure, the functional parts such as the trailing arms, crossbeam, and spring seats are divided into components configured with different thicknesses, which are then joined by arc welding. Due to local deformation and stress concentration at the joints, the joints have to be elongated and stiffeners need to be added to ensure rigidity and durability, which tends to increase the mass.
Feature 2: Joining
Fatigue strength and formability in the joints
achieved at equivalent levels to the base material!
A joining technology called plasma welding is used to join tailored blanks. This joining technology directly melts steel sheets of different thicknesses to make smooth joints, eliminating the weld bead toe and the concentration of stress along the weld route that occurs in arc welding. This creates high fatigue strength equivalent to the base material.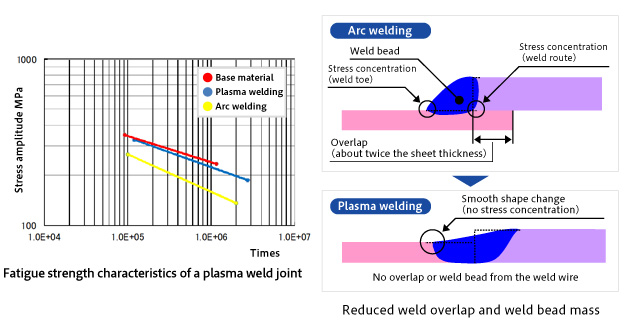 However, plasma welding conditions that will ensure robust formability have to be ascertained. This is due to the risk of forming cracks resulting from non-uniform hardness and differences in thickness when tailored blanks are pressed. Yorozu has optimized welding conditions and achieved stable forming by using an experimental design method to set welding conditions and a tension test load-displacement curve to evaluate formability. We determined that favorable plasma welding conditions that will ensure robust press formability show the same characteristics as the base material on the tension test load-displacement curve and break at the thin spots, not at the weld joint.
Optimal welding conditions in plasma welding