The Yorozu Production Way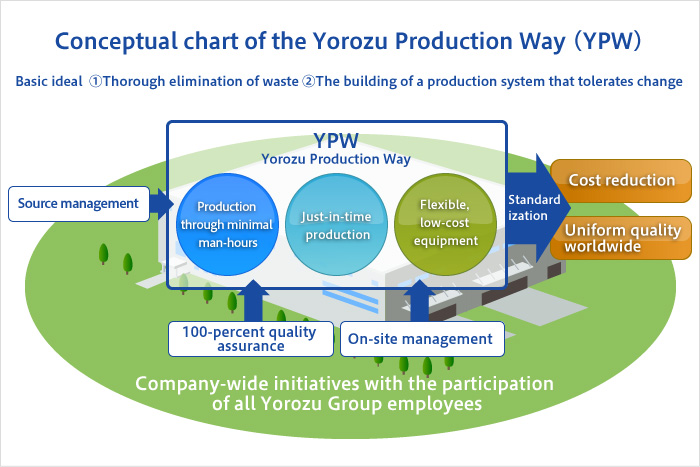 Providing the Reassurance of "Uniform Quality Worldwide"
—The Yorozu Production Way and Standardization
In response to customer demand for global availability, Yorozu immediately stepped up to the plate and made global availability a part of the company's management strategy. Starting in 2010, over a short period of three and a half years, we quickly established six sites located mainly in developing countries.
But, even as the number of our overseas sites increases, they do not develop their own independent styles; instead, we continue to provide customers with products that they can use with the reassurance that no matter where in the world Yorozu's products are manufactured, they are always made with the same production methods and the same quality management system as in Japan.
Two specific means by which we ensure this are: "Evolution of the Yorozu Production Way (YPW)" and "Standardization: Yorozu Production Standards." We established the Yorozu Production Way (YPW) to clearly articulate our approach and vision for manufacturing. Pursuing standardization of not only all production equipment and dies but also of all procedures, then rolling out and entrenching this standardization throughout the Yorozu Group ensures that we conduct safe and stable production with uniform quality worldwide.