Message from the President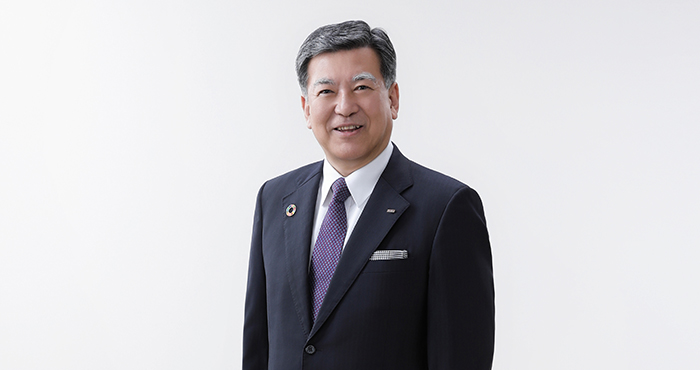 Yorozu was founded in 1948 as Yorozu Automobile Works, renamed itself to Yorozu Corporation in 1990, and has gained the trust of many automakers in and outside Japan through its dedication to technology as an automotive parts manufacturer focusing primarily on suspensions.
The company's outstanding development capabilities give it an unparalleled leverage over other competing suppliers in the industry. Yorozu's strengths are built on the foundation of its distinctive total production system that allows the entire process of part designing and development to be conducted in-house; from market research, concept planning, designing, analysis, prototype development, and to testing. Since its transformation to an independent parts maker, the company has expanded its business to all domestic automakers and overseas makers such as Renault, Daimler, and Volkswagen, which further strengthened our development capabilities.
Yorozu has also rolled out new technologies for stamping and welding methods, taking the industry by surprise. As a result, we have earned an excellent reputation from customers around the world for supplying suspension parts with an outstanding competitive advantage in terms of performance, weight, and price that we achieved through our one-and-only, latest design technology and manufacturing expertise. We also owe our strengths to the success in ensuring equal quality worldwide through innovation of Yorozu Production Way (YPW).
The coronavirus pandemic is a crisis of a magnitude with no parallel in the recent past, even the Lehman Brothers crash, having a massive social impact on the economy and human lives worldwide.
Meanwhile, the automotive industry is hurtling through a once-in-a-century transformation. Surviving in the cruel competitive market that could last long-term is likely to become ever more severe and accelerate automobile and auto parts manufacturers to implement smart strategies aimed at successful alliance. Furthermore, reduction of environmental burden is another biggest challenge the companies have to face in the era of decarbonization where practical application has become increasingly important. In the midst of such a tough situation, Yorozu employees have been working closely in their respective positions to refine the skills of thinking, acting, and being sensitive to be capable of responding to the undergoing changes since the COVID-19 outbreak. As I steer the company into the future and drive ESG management, I am determined to make Yorozu ceaselessly supply superb suspension parts to automotive makers, that are "safe and secure" with "outstanding quality and comfort," and also "cost-competitive," that will be the envy of all our competitors. I am willing to contribute to society in an endeavor to meet expectations of all stakeholders, and I thank you for your continued support and guidance that will lead the way to new ground.
Tsutomu Hiranaka
President and COO
Member of the Board
April 2021